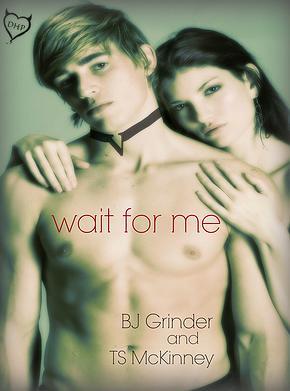 Excerpt
"Don't be afraid, Mistress," he whispered against her ear. "You won't hurt me. You can't hurt me." His deep voice was steady and calm as he coaxed her into a state of relaxation. "Nothing you can do to me...no matter if it happens to be the exact same acts they committed against me...will be the same...not in my eyes. I trust you not to hurt me. I trust that every act you and I do tonight will be in love and I am definitely a willing partner. "It," he kissed her neck, "isn't," he kissed her earlobe, "the," he kissed her other earlobe, "same". He turned her around and kissed her lips, using his tongue to wipe away the tears that had fallen as he touched her.
"My safeword is Chloe. I won't need it, but I know it makes you feel better."
TS McKinney & BJ Grinder
Wait for Me is a dark erotica romance that originated from a dream one of the naughty authors had one night. Naturally, if you ask BJ, she will blame TS and if you ask TS, she will blame BJ. It's kind of their "thing", blaming the other! Little by little, the story kept growing until we finally had to just rein in our imaginations and let Susannah and Jasper have their happy ending. Heaven's knows; they both earned it! Let's be honest, living in a small country town in East Tennessee doesn't lead to a lot of excitement...so we have to create our own! Jasper's journey in Wait for Me is filled with torture, pain, humiliation, rape, and being used as a sex slave for a man he hates...the man who took him away from Susannah. Through it all, he holds onto his unwavering love for the woman he has always loved. It's that love that helps him survive every test thrown his way. We hope you enjoy Susannah and Jasper's desperate battle to find one another again!
Malachi and Megan's story will be following up next and we can't wait to share it with our readers! Just ask yourselves - Can Malachi and Megan's love survive...when they are both sexual dominants? Or will they need another, more submissive lover, to complete them? Have we heard the last of Nicholas and Victor?