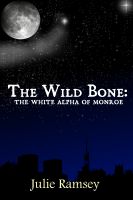 When Sally's mother dies, she is left with no family. Her two best friends Hector and Cathy decide to take her out to the new bar in town, The Wild Bone, to get her out of the house. The night doesn't turn out how they imagine. Sally's mother kept a secret that is about to come to light. The secret holds the trio's future. 2 men both werewolves are about to change Sally's life forever. One will be her future and bring out what has been hidden from her. One wants to steal her future to gain the power of the Monroe pack. Will Sally and her friends survive the turmoil to come?
This is my 1st book to be release. It has been re-edited and updated. I am very proud of my 1st book and I hope you all enjoy my first book.
http://www.amazon.com/Wild-Bone-White-Alpha-Monroe-ebook/dp/B00IFD8O3E/ref=sr_1_1?ie=UTF8&qid=1404133297&sr=8-1&keywords=julie+ramsey
https://www.smashwords.com/books/view/411877
http://www.barnesandnoble.com/w/the-wild-bone-julie-ramsey/1118904025?ean=2940045755672
Reviews:
Great story, very easy to imagine myself in this world as this character because the world was laid out very well. Tony is very sexy and a good combination of sexy fun and supportive. Nice to see a chick coming into power instead of reading about the guy just always leading the way all the time. Good starter book. Hopefully more to follow. 5 Stars
Sally's mother just died, she has never known her father and all she has left are her best friends Cathy and Hector. The three are very close and are like family. Cathy and Hector decide to take Sally out to a new bar in town, The Wild Bone. Dancing and having a good time is the goal. When they discover the bar is very different, they end up running for their lives. Sally gets separated from her friends in the commotion. Just as she gets to her driveway, someone confronts her. The tattooed man, a werewolf, she just knows is going to kill her. After the encounter, the man is all she can think about. Sally doesn't know it yet but he is the beginning of the future her mother had hid from her and a family she had never known.

Totally loved this book. It's not my usual type of book but I fell in love with the characters & the story line..I couldn't put it down once I started it. It's an amazing quick read. It made me want to read more like it. This is the first book I've read by this author but I can't wait to read more books by Julie.
5 Stars
I hope Ms. Ramsey continues to write! This is not my typical genre, but she delivers lots of fast-paced fun. The characters are all about fun, and you feel like you are making some new friends that you share a deep connection with. I am a big fan of Sally already. Her character has lots of facets, and you root for her while feeling lots of sympathy for her past. 4 Stars
wow!! love it!! this book had everything from caring,love,fighting,sad moments and heated sex parts in it too.. this book had me from very first page.. very well-written and fast-read.. so going to read book 2 when it comes out.. 5 Stars
This is just a sampling of the reviews. Avg 4 1/2 stars 10 5 Star's and 7 4 Stars just on Amazon!