Hello My fellow readers. Today I am being featured in an event on the Facebook group Indie Author Books. It is a GREAT group of people all helping promote and advertise Indie books.
Here is the link to the event. https://www.facebook.com/events/859415620750284/
Let me introduce myself, for those of you who do not know me. My name is Julie Ramsey. I am a blogger, reviewer and author. I started off just loving books, just like you all. I have a soft spot for sexy paranormal type books. Some of my favorite authors, Christine Feehan, Becca Jameson, Eve Langlais, and JR Ward.
I have been running a blog for about 2 1/2 yrs now. Julies Book Review helps all authors. Helping promote, feature, reviews and anything we can do to help. So we have something very much in common with this Facebook page.
This year has been full of firsts though for me. The end of last year, I started to write. I wasn't sure what I had at first. I found out just how hard being an Indie Author is. But I also found a new passion. I really love writing. I so wish I had found it earlier. So this year in Feb I released my first book The Wild Bone: The White Alpha of Monroe.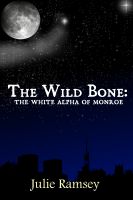 I continued with my writing and in June of this year my second book was released Restraining An Alpha.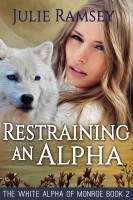 I am currently working on book 3, so more will be coming. The series follows a group of friends Sally, Hector and Cathy. The book starts with Sally losing her mother to cancer and her friends trying to cheer her up by taking out to a local bar. Unbeknown to them it is a werewolf bar. Soon chasing, fear and mayhem come into play. Sally also meets someone who will change her life. Book one is Sally learning about a new world that surrounds her, secrets that had been hidden from her and a danger she never expected. Book two, Restraining An Alpha, continues and Sally has a to learn to deal with a new life and gifts. her friends are with her at every turn and have their own issues as well. As the story unfolds with twists and turns, you get immersed into the town and the Monroe pack. With danger at every turn, you can't help but fall in love with the characters and hate the villians.
Neat little facts about the story/ 1. The town of Monroe is a real place. I live in Monroe, Mi and I have used the town as my settings. 2. Many of the characters are based off true people.
So I hope you have learned a little about me and my stories. I am giving away 1 ebook of each of my books to someone who comments below. The links are also below. Both books have been re edited and are ready for some readers to meet the werewolves of Monroe. Any reviews are all ways welcomed.
Smashwords: https://www.smashwords.com/books/view/441158 (book 2)
https://www.smashwords.com/books/view/411877 (book1)
Amazon:http://www.amazon.com/Wild-Bone-White-Alpha-Monroe-ebook/dp/B00IFD8O3E/ref=sr_1_1?ie=UTF8&qid=1406984220&sr=8-1&keywords=Julie+Ramsey (book1)
http://www.amazon.com/Restraining-Alpha-White-Monroe-Book-ebook/dp/B00KJKXZ1C/ref=sr_1_2?ie=UTF8&qid=1406984220&sr=8-2&keywords=Julie+Ramsey (book 2)
also on Kobo, B&N, Itunes!
My FB pg is https://www.facebook.com/julieramseyauthor?ref=hl&ref_type=bookmark please stop by and see me sometime.
Thanks and enjoy the day
Julie Ramsey