For Adults
What they're saying about The Fix.
"Continuing to write first-rate suspense- exploring the deepest conflicts in human nature. Exquisitely crafted with an utterly surprising climax, this story will satisfy all. Balkind takes you away for a spellbinding, all-consuming afternoon."
Tonja Walker, Actress, Producer
"Blazes like a 4.2 forty with the intrigue of a Sports Illustrated cover piece."
Andrew Gross, NY Times Bestselling Author
"One thing I love is a good mystery. More than that I love a good sports mystery. And most of all I love a good sports mystery that feels real. 'The Fix,' is all of the above."
John Feinstein, NY Times Bestselling Author, Sportswriter, Broadcaster
Even those who "hate sports" are giving The Fix 5-Star reviews.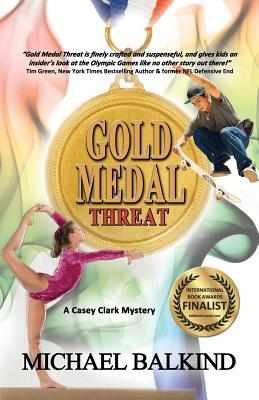 New Book Cover for GMT
What they're saying about Gold Medal Threat.
"Gold Medal Threat is finely crafted and suspenseful, and gives kids an insider's look at the Olympic Games like no other story out there!"
Tim Green, New York Times Bestselling Author
"Gold Medal Threat is one of those books that puts a big smile on your face and makes your day better. I truly recommend it to everyone, at every age… It's so much fun! I loved it!"
Bianca M. Calin (age 14)
"This book is very thrilling and filled with suspense, mystery, and action. A great novel for kid mystery fans. Humor is twisted inside every chapter. The author takes you on a journey with many twists and turns. The main characters are likable, smart, funny, and resourceful. I loved every chapter."
Jacob Tabs (age 11)
·
Both books were recent Finalists in The International Book Awards. The Fix was a finalist in the General Fiction category and Gold Medal Threat was a finalist in Young Adult Fiction.
·
Balkind's novels Sudden Death & Dead Ball are endorsed by literary greats: James Patterson, Clive Cussler, Wendy Corsi Staub, & John Lescroart
·
Available in Paperback and eBook at Amazon and Barnes & Noble, and eBook at Apple, Sony, Smashwords & almost everywhere else eBooks are sold.