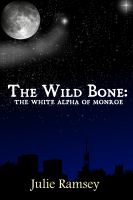 The Wild Bone brings us to the town of Monroe, Michigan. Yes, it is a real place but all the characters are fiction. In this reality, werewolves, witches, vampires and paranormal creatures not only exist but are known by humans. The paranormal beings here are full citizens and have rights just as any human. But just as there is discrimination between races, religions, colors, creeds, rich and poor, there is discrimination against the paranormal's as well. In the start of book one, The Wild Bone: The White Alpha of Monroe, Sally has lost her mother to cancer. After a month of morning, her two best friends Cathy and Hector take her for a night on the town. They have made the decision to take her to a bar for dancing at The Wild Bone. Soon after arriving they notice some strange things. They find out it is a werewolf bar and they get out of the bar just as the others in the bar start to shift. As they run for there lives they become separated. Sally gets home only to be confronted by a man. He is tall, dark and she knows he is a werewolf. The encounter between the two is something she never forgets.
After six years Sally meets the man again. And this is where the truly story begins. Sally, Hector and Cathy get thrown into the Monroe werewolf pack. Chaos is never far behind and the trouble is just beginning for this group and the pack.
Come check out this novella and join us in the Monroe pack.
http://www.amazon.com/The-Wild-Bone-White-Monroe-ebook/dp/B00IFD8O3E/ref=cm_cr_pr_product_top
http://www.smashwords.com/books/view/411877
http://www.barnesandnoble.com/w/the-wild-bone-julie-ramsey/1118904025?ean=2940045755672
The book is only .99 cents. Great deal for a fun fast read. Book two is almost done and I am hoping to have it out in the next month or so. I am looking forward to seeing more great reviews. If you would like to talk to me and get the latest updates for book 2 you can find me at:
https://www.facebook.com/julieramseyauthor
or @djjramsey on twitter
I also run the blog Julies Book Review
juliesbookreview.blogspot.com
Looking forward to hearing form you,
Julie Ramsey